Our Vision
"Educating for life in all its fullness"
Vision Statement
To enable everyone within our community to flourish and enjoy a life filled with love, meaning and purpose, underpinned by Christian values, a love of learning and an eagerness to make the world a better place together.
The Vision is based on the biblical text John 10:10:  Jesus said, 'I have come in order that you might have life – life in all its fullness.'
The Four Foundations
Our vision is built upon four foundations which are interwoven with our six core Christian Values (forgiveness, responsibility, koinonia, friendship, compassion and respect)
Wisdom, Knowledge, Skills (forgiveness)
Hope and Aspiration (Responsibility)
Community and Living well together (Koinonia, Friendship and Compassion)
Dignity and Respect (Respect)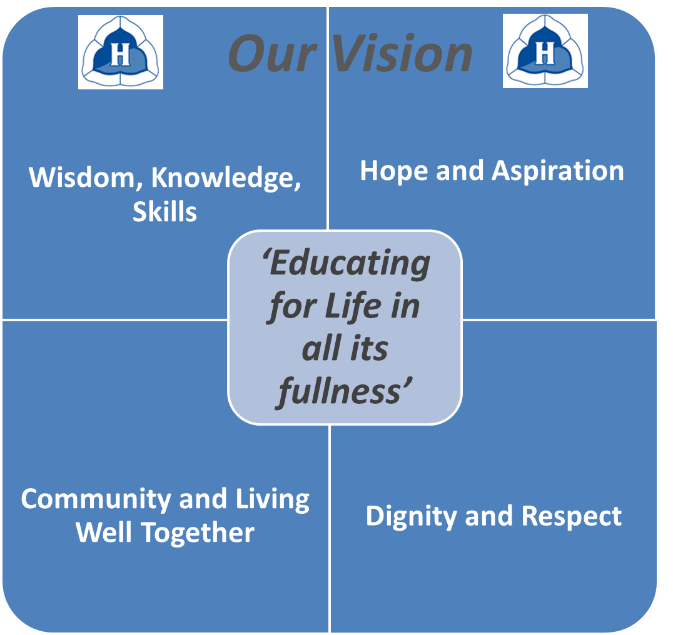 Wisdom, Knowledge and Skills: Forgiveness
Fostering discipline, confidence and delight in seeking wisdom and knowledge, and fully developing skills/talents in all areas of life. Coping wisely when things go wrong, forgiving one another when we make mistakes. Developing resilience through times of challenge
Hope and Aspiration: Responsibility
Opening horizons and guiding people into ways of fulfilling them. Seeking healing, repair and renewal. Developing a wider hope and aspiration for our local community and the world at large as responsible global citizens.
Community and Living well together: Koinonia, Friendship and Compassion
Ensuring a core focus on relationships, participation in communities and the qualities of character that enable people to flourish together.
Dignity and Respect: Respect 
Ensuring the basic principle of respect for the value and preciousness of each person, treating each person as a unique individual of inherent worth.
Core Christian Values
Hampstead Parochial School is a Church of England Voluntary-Aided primary school that offers a distinctly Christian education in an inclusive environment where we encourage all children and young people to learn, enquire and grow.
The distinctive nature of our approach to education can be found in our explicit Christian values such as collective worship, a grounded Christian ethos and in our Religious Education.
Children and staff of all faiths and none are welcome at our school and our aims are to promote understanding and tolerance between those of different faith traditions.
'Church schools should nourish Christians in their faith, encourage those of other faiths and challenge those of no faith'
Robert Runcie, Archbishop of Canterbury 1980 – 1991
As a community, we have identified six values that are woven into the very fabric of the school which we expect all members of the school community – students, staff, governors, parents and clergy – to model:
Friendship
Compassion
Forgiveness
Respect
Responsibility
Koinonia
Koinonia may be a word you don't instantly recognise. It is a Greek word that occurs 20 times in the Bible (first occurring in Acts 2:42) and it means 'communion, joint participation and contribution'. It identifies the idealised state of fellowship and unity that should exist within the Christian Church.
Promoting British Values
The Department for Education recently emphasised that key 'British Values' must be taught in all UK schools and defined these values as:
 democracy
 the rule of law
 individual liberty
mutual respect
tolerance of those of different faiths and beliefs
Hampstead Parochial Primary School recognises the multi cultural, multi faith and ever-changing nature of the United Kingdom and understands the role it has in ensuring that it upholds and promotes these values.
The school accepts admissions from all those entitled to an education under British law, including pupils of all faiths or none. It follows the policies outlined by its governing body regarding equal opportunities, which guarantee that there will be no discrimination against any individual or group, regardless of faith, ethnicity, gender, sexuality, political or financial status, or similar.
British values are promoted as an intrinsic part of our School culture and curriculum. The list below outlines some examples of when and where such British Values are shared.
Democracy
Children are involved in democratic processes e.g. making decisions at a class and whole school level
Our Behaviour Policy reinforces the importance of social responsibility and fairness
The Rule of Law
Children are taught about responsibility and the importance of rules and consequences
Children have opportunities to reflect on their learning, behaviour and safety
Visits from the Police, Fire Service etc. help to reinforce these messages
Individual Liberty
Children are encouraged to make choices within a safe, supportive environment
Children are encouraged to have an understanding of their personal rights and freedoms e.g. through our teaching of e-Safety and PSHE.
Children are encouraged to take on responsibilities and be responsible
Mutual Respect
Our School ethos promotes the importance of mutual respect and tolerance
Assemblies, class and whole school behaviour expectations reinforce respect
Our PE lessons reinforce the importance of fair play. We celebrate and reward success, promote the importance of being magnanimous in defeat and participate in activities that promote teamwork and collaboration
Tolerance of Those of Different Faiths and Beliefs
We aim to teach children to have an understanding of their place in a culturally diverse society by giving them opportunities to experience such diversity
We plan visits away from the School and visitors to the School so that we are able to broaden the children's cultural experience.
Our RE curriculum ensures that children have a balanced understanding of different faiths and beliefs
Some of our curriculum topics celebrate different cultures, faiths and beliefs