Phonics
Our children begin their reading journey as soon as they start school in Reception. Children at Hampstead Parochial learn to read quickly. To achieve this, we use a carefully-structured phonics programme and an aligned reading scheme, which offers a range of fiction and non-fiction books matched to children's phonic knowledge.
Phonics is taught systematically across Reception and Year One. We follow the Essential Letters and Sounds programme with daily phonics sessions enabling children to learn quickly, building on and consolidating prior knowledge day by day. Children also take home a decodable reading book carefully matched to their phonics knowledge, as well as a reading for pleasure book to share at home. We use the Oxford Reading Press decodable books.
Progress in phonics and reading is tracked rigorously with additional 'keep up' support provided by trained staff for individuals and groups.
Please click this link to find out more about Essential Letters and Sounds: ELS-Parent-Presentation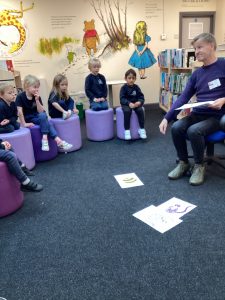 Reading
At Hampstead Parochial, we want all children to become confident, fluent readers who read for pleasure whilst also reading to learn.
In Reception and Year 1, children read in small groups led by an adult. From Year 2, reading is taught through a whole-class approach. The text used within reading lessons is also used in writing lessons. This allows our children the opportunity to explore texts in greater depth, extend their vocabulary and make links between reading and writing skills and knowledge.
Children at our school are exposed to a range of challenging high quality texts including fiction, non-fiction and poetry.  Our aim is to introduce children to a wealth of traditional and contemporary children's literature whilst enjoying stories from around the world. We are privileged to have a wonderful library which all children have access to. Pupils enjoy selecting their own reading for pleasure book and spending time reading in this calm, inviting space. Every class has a daily story time with books that have been carefully selected to enhance our children's love of reading. At Hampstead Parochial, we also love to celebrate reading through whole-school events such as World Book Day, book fairs and author visits.
Every year, Hampstead Parochial subscribes to The Camden Reading Road Map and the children simply love reading the books provided. Please click here to find out more.
Please clink the links below for our recommendations for books at all reading stages.
Picture Books        Early Chapter Books           Chapter Books         Non-Fiction Books